UK Managed Quarantine at the Holiday Inn London
Arriving in the UK from a "red list country"? You might be wondering what to expect in your 10 day Managed Quarantine Hotel stay, and indeed knowing what to expect helps you to be prepared and make the most of your stay. This blog post then is just what you were looking for, I went through the process in April 2021 and have detailed here some useful things I think you should know.

So here are some things I think may be useful to know before you go into your 10 day Managed Quarantine hotel stay (note that these things are based on my stay in a quarantine hotel in London after arriving at Heathrow Airport - my managed quarantine hotel package was at the Sipson Road Holiday Inn, also known as the Holiday Inn at M4J4).
Surviving Quarantine or Managed Isolation
Firstly, remember this. Whether you are going into managed quarantine or self isolation at home how much you enjoy it is all down to your mind-set. If you go in thinking it's going to be bad then it probably will be, but think about it as a cosy little holiday and the time will fly by! Yes I know, you've paid over the going rate for an 11 night stay at a Holiday Inn or equivalent hotel, but take a deep breath and accept it, that is out of your control but you can control how much you enjoy your stay.
Arrivals to UK Airports from Red List Countries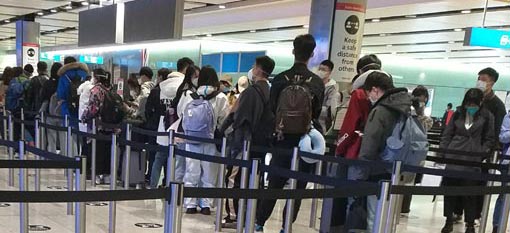 When you arrive at immigration from a red listed country, make sure you follow the signs to the red country arrivals in immigration (at Heathrow this is to the left of the main queue and has red signs above it). If you don't do this you will likely find yourself queuing twice. A number of people who arrived on my plane did not immediately go to the correct queue but found themselves escorted to the back of the now significantly longer red queue. Note that our plane had not arrived directly from a red listed country since direct flights from South Africa to the UK were not allowed at this time, but if you have been in a red listed country at any point in the 10 days prior to your arrival the same rules will apply.
At immigration you will be asked for various documents relating to your travel arrangements and managed quarantine booking documents before being escorted to collect your luggage and onto one of the shuttle buses to be taken to your managed quarantine hotel.
You can find out more about travelling to and arriving in the UK from a red listed country (in my case South Africa) here.
How Long Does the Quarantine Last in UK?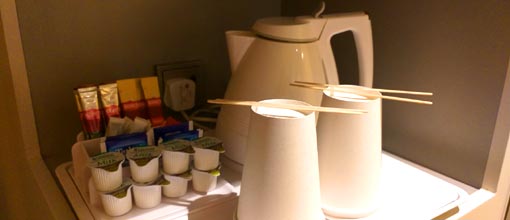 If you are arriving from a "red list country" then you will need to enter a ten day managed quarantine period on your arrival into the UK.
10 Days Managed Quarantine is effectively 11 Nights and 12 days
You may have noticed in my introduction I said 11 nights, this was not a typo. The way your 10 day managed quarantine is calculated is that your arrival day at the hotel is Day 0 no matter what time of day you arrive, and you can leave at midnight on the 10th day, that effectively makes your stay 11 nights assuming you stay the night of the 10th day, and 12 days if you include the arrival and departure day.
UK Quarantine Hotel Check-In Procedure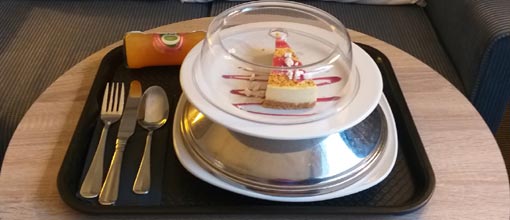 The check-in procedure will be a bit different from your usual check-in procedure and will be conducted away from the actual reception area in a socially distanced environment while you complete various forms and receive an induction pack, at some point during this you will usually be asked if you want to lodge a credit card at reception.
I was half asleep during my induction after more than 36 hours of planes and airports ( find out more about my journey from South Africa here) however I recommend you listen carefully to the induction as some procedures may vary between hotels, and I found the induction pack I was given and read later did not match exactly the instructions given during the induction or the facilities available at the hotel.
Lodge a credit card with reception on arrival
If you think you might want to use any hotel services not included in your package or order any extras during your stay, such as alcoholic drinks or room service aside from the standard meals provided, then make sure to lodge some credit from your credit card at the reception when you arrive and check-in since you will not be able to leave your room to do so later.
UK Quarantine Security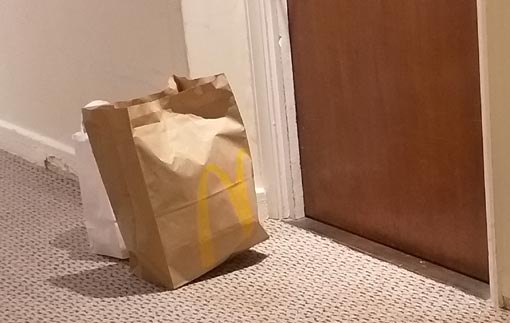 Once you have completed the induction you will be escorted to your room by one of the "security staff". These security staff are a team of people independent from the hotel who are employed specifically to be your point of contact during your stay and to ensure that you are observing the managed quarantine rules. They will be the ones who escort you in and out of your room, deliver any items you order from outside the hotel, bring around the PCR tests on days 2 and 8, and check your PCR results are negative before you can leave quarantine. In addition they will have a presence on each floor to ensure the protocols are observed, in particular that you stay in your room with the door closed at all times except when collecting deliveries from outside your door or if you are being escorted to/from your room.
Can You Leave Your Room during Hotel Quarantine?
Exercise
At the Holiday Inn there was an "exercise area" (a small car park at the back of the hotel) available for those who wished to get some fresh air and/or exercise, and I saw similar areas marked out at some of the other quarantine hotels from the shuttle bus. The area at the Sipson Road Holiday Inn was large enough for people to walk or jog around in between the parked cars but the outdoor area looked much smaller at some of the other hotels.
It's worth noting that the hotel quarantine exercise area was busiest in the late afternoon (before dinner was served), early in the morning before breakfast was the quietest time and is worth striving for if exercise rather than just some fresh air is your main goal. At the Sipson Road Holiday Inn it was possible to visit this area more than once per day.
In order to use this area you would need to call down to reception and arrange to be escorted to and from the exercise area. It is recommended to avoid the lifts at least on the way down to minimise contact with surfaces and being enclosed in small areas. If you can't manage the stairs without using the hand rails then I would suggest that you may be better using the lifts in both directions since the time in the lift is quite short. Do not forget to take your mask with you, and wash your hands before leaving your room and on your return.
Please note: Having an outside exercise is not a sure thing during your hotel quarantine, although I am sure most hotels will try to accommodate this. The UK government website states that "...where there is an appropriate and safe space to go, you may be able to leave your room for brief periods to go outside for exercise. If this is permitted ..."
Smoking
No smoking is allowed in your room, however smokers are allowed to leave their room to smoke in a dedicated area. To do so you would need to call reception when you wanted to smoke so they can send a member of the security team to escort you as described for exercise above. Again try to avoid the lifts and handrails on the stairs if you can.
Please note: While I am sure most hotels will try to provide an area for smoking since they will not want people to be tempted to smoke in their rooms, smoking is not a guaranteed thing so if you are a smoker make sure to bring some form of nicotine replacement products with you, The UK government states "Smoking is not permitted in your room. Needing to smoke is not a reason to go outside."
Managed Hotel Quarantine Cleaning, Health and Safety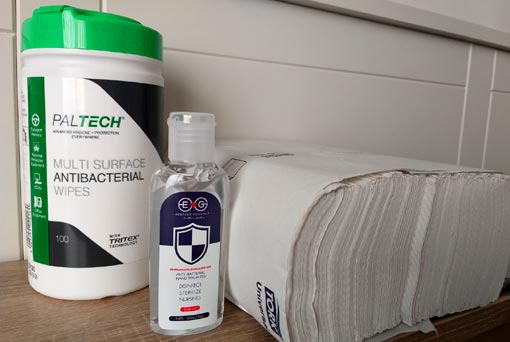 While each room should have been deep cleaned between every guest you will be provided with anti-bacterial wipes and paper tissues and there is no harm in my opinion on giving your room a once over with the anti-bacterial wipes before you start unpacking. Pay particular attention to areas such as tables, desks, chairs and bathroom surfaces as well as remote controls and telephones all of which are "high traffic" areas in terms of places previous occupants may have touched. You can make it part of your daily routine to wipe down these areas every day, especially any areas where you put down meal trays or other items delivered from outside your room.
During your stay no cleaners, hotel staff or anyone else for that matter will be allowed to enter your room so you will be solely responsible for the cleaning of your room, this includes the changing of any bed linen should you require this during your stay (at the Holiday Inn where I was staying you could request a change of bed linen and towels every 3 days).
A limited laundry service for a few small personal items will likely be included as part of your Managed Quarantine Package. During my stay at the Sipson Road Holiday Inn this was for seven (7) small items per week. Remember to allow 48 hours turnaround time for laundry even though in reality it will often be returned the same day or the next day.
Hand sanitizer is also provided for you, so remember to use this before leaving your room for exercise or smoking if you choose to do so, and on your return.
Review of UK Quarantine Food & Drink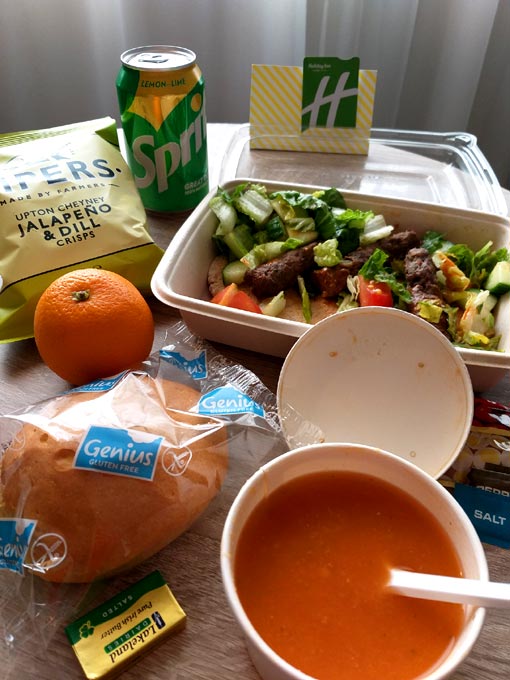 Included in your package will be three meals a day, breakfast lunch and dinner, as well as bottled water and fresh fruit. A soft drink will be provided with your meal and bottled water is usually left outside your bedroom door every couple of days, if you need more water in between deliveries then you can call housekeeping who will happily make a delivery for you.
There will be a piece of fresh fruit with your lunch pack every other day, however you can order more fruit from the kitchen at any point. Since I didn't want the cooked breakfast I requested that the cooked breakfast was replaced with fresh fruit and so I had a constant supply of fresh fruit.
Menus offering a choice between 2 options per meal were provided on arrival and on Saturday for the following week and you will be asked to complete your meal preference for each day.
For breakfast each day was fruit juice (usually orange), yoghurt, fruit salad and a pastry (i.e. a croissant for all the days I was there) as well as a choice of either a vegetarian or a full English cooked breakfast.
Lunch was similar to what you might buy at a supermarket sandwich bar and was clearly brought in from various sources rather than prepared in the hotel kitchen. It consisted of a choice between 2 sandwich options (a meat and a vegetarian option) and in addition there was a different flavoured soup each day of the week served with a roll, a fizzy can of drink, and 2 of the following items depending on the day of the week: a chocolate bar, a piece of fruit, crisps.
Both breakfast and lunch came in takeaway style containers with plastic knives and forks. Forewarned is forearmed and having read this in advance I came prepared with my own cutlery which I had packed in my suitcase which made eating distinctly more enjoyable.
Dinner was a much grander affair, and was a hot meal arriving on a tray under a silver plate cover with proper cutlery and a thick black paper napkin.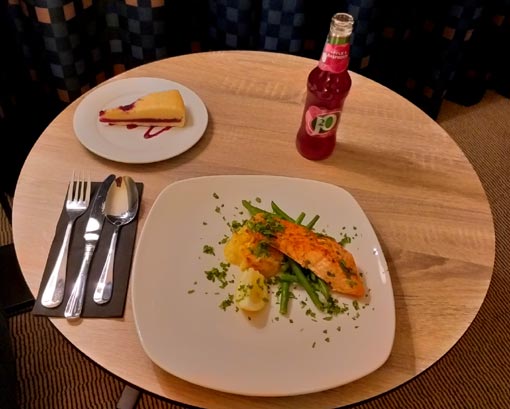 Again for dinner each day their was a choice of cooked meal, one of which was a vegetarian option. In addition there was a soft drink (as standard this was a J2O), and the dessert of the day.
If there is something else you would like such as alcoholic beverages then room service was available, if you want to use this service make sure you lodge a credit card at reception on arrival. In addition you could order takeaway deliveries to your room, make sure to include the room number when you do. Your package will be left in reception by the delivery company and delivered to your room by one of the security staff.
Overall I found that the food provided as part of the hotel quarantine package was of a decent enough quality, for more information check out my Quarantine Food Diary here.
Review of UK Quarantine Hotel Internet
I am not sure of the situation in other hotels, but at the Holiday Inn where I was staying (Sipson Road) there were two wifi networks, the complimentary network which was suitable for emails, web browsing and social media, and a faster network more suitable for streaming which would normally be at an extra cost but was included in the hotel quarantine package.
I found that during my stay everyone was using the "faster" paid network since it was free to managed quarantine guests so actually the complimentary network seemed to be just as fast, maybe even faster on some days.
Once you are logged onto the faster network for the day there is no way of returning to the complimentary network for the next 24 hours. After 24 hours on a network you will be automatically logged out of whichever network you have selected and asked to choose which network to connect to again. Be careful to avoid doing anything time critical over this network such as buying something with your credit card or submitting your COVID PCR test form at the time when you are scheduled to be automatically logged out!
For sensitive transactions it would be best to connect via a VPN such as that provided as part of Norton 360, or better still use data from your sim card if you have one.
If you need reliable internet to work then you may want to make sure you have a decent data package on your mobile phone.
If you don't have a UK sim card on arrival then consider ordering a pay as you go sim card to be delivered to your room. One good option would be giffgaff, the reason I recommend giffgaff as an option is that you can order the sim card without having to pay for it, so if the card does not arrive at your room then you do not lose out. You will however need to use a credit card to activate your sim card by either adding £10 pre-paid credit or ordering a "goodybag" which includes unlimited free minutes to UK landline and mobile numbers as well as certain amount of data depending on the price you pay for your goodybag.
Goodybags or packages start at £6 for free UK calls and 500MB of data. Goodybags last for 1 month from the date of purchase after which you will need to buy another goodybag, or add credit. Goodybags do not cover international calls, for those you would need to have credit available on your account. There are no contracts so once you leave quarantine you could always buy a contract with another network if that suits you better.
Sign up to giffgaff here and get £5 free credit when you activate your sim card (in the interests of full disclosure I will also get £5 free credit when you activate your sim).

Review of UK Quarantine In Summery
For those who cannot avoid travelling to or from a red list country to the UK at this time I hope that the above will help re-assure you and plan your quarantine, for more details on some other aspects of travel during COVID you can find more articles about travelling during the pandemic in the links from the menu..
My personal feeling and advice to anyone looking for a holiday is remember "local is lekker", i.e if you feel you need to get away for a few days then try to stay as local as possible, not just for your own safety but out of consideration for others. Remember that while a vaccine may protect you from the worst effects of the virus and there is evidence to suggest vaccines reduce the spread of COVID-19 you could still be taking the virus with you.
Whatever you decide, remember to stay socially distant as far as possible, wash your hands frequently (as a minimum before leaving your home/hotel and on your return), while you are out and about use hand sanitiser before entering shops and restaurants and after handling anything, and wear a mask whenever you leave your home/hotel. I hope that you all stay safe and well.
More information provided by the UK government on Managed Quarantine can be found here.
A full list of countries on the UK red list can be found here.
---

---