How to get to Railay Beach
Taking a long-tail boat from Ao Nang to Railay Beach Thailand Andaman Sea
published 21 July 2019
Recently I was lucky enough to spend a night at Railay Beach in Thailand, and I will write separate blogs soon about the things to do at Railay Beach and the pros and cons of booking a hotel to stay overnight at Railey Beach versus a day visit. But first to answer a very important question, how do you get to Railay Beach?
If you prefer to see for yourself then go ahead and watch my how to get to Railay Beach video now. This video will show you step by step the process of buying a longtail boat ticket to Railay Beach at Ao Nang, where to hand in your boat ticket, boarding the longtail boat, what it is really like to take a longtail boat and arrival at Railay Beach.

---
How to get to Ao Nang Beach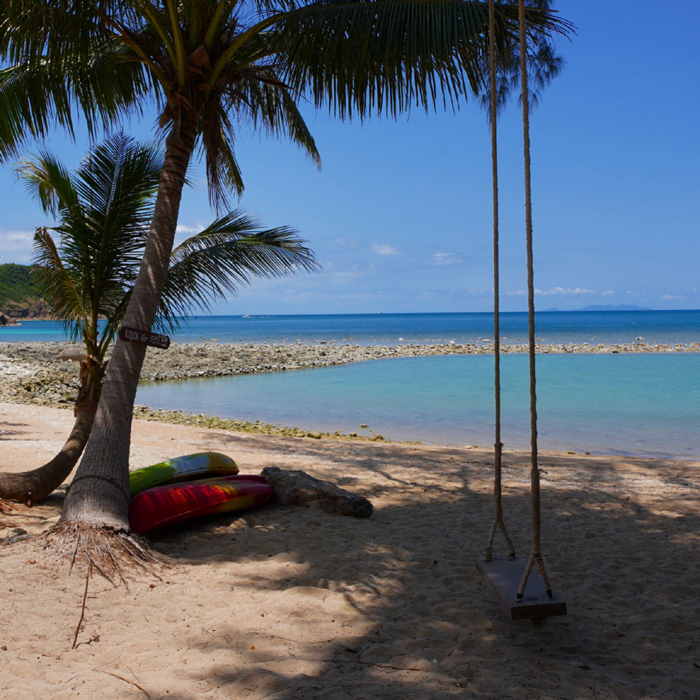 My journey to Railay Beach, also known in Thailand as Rai Leh, started in the Gulf of Thailand, with a long day of boats and buses to get to Ao Nang beach near Krabi, but that's a story for another day! For most of you reading this you will probably be flying in to Krabi.
It is easy enough to get a songthaew (shared pick-up truck/taxi) service from either Krabi airport or Krabi town to Ao Nang. Ao Nang is a beach resort town where you will find all the long-tail boats waiting to take you out to the nearby islands or, as in our case today, Railay Beach.
Songthaews to Ao Nang depart from Krabi bus station every 15 to 20 minutes during daylight hours in low season and up to 22:00 in high season.
How much does it cost to get from Krabi to Railay Island?
The cost of a Songthaew from Krabi to Ao Nang was 60 Thai baht when I travelled in 2019 and takes about 20 to 30 minutes.
Buying a ticket to Railay beach isn't difficult, you can buy a one way or return (two tickets) from the longtail beach service at the ticket office.
When I bought my ticket (in 2019) the cost was one hundred (100) Thai Baht each way.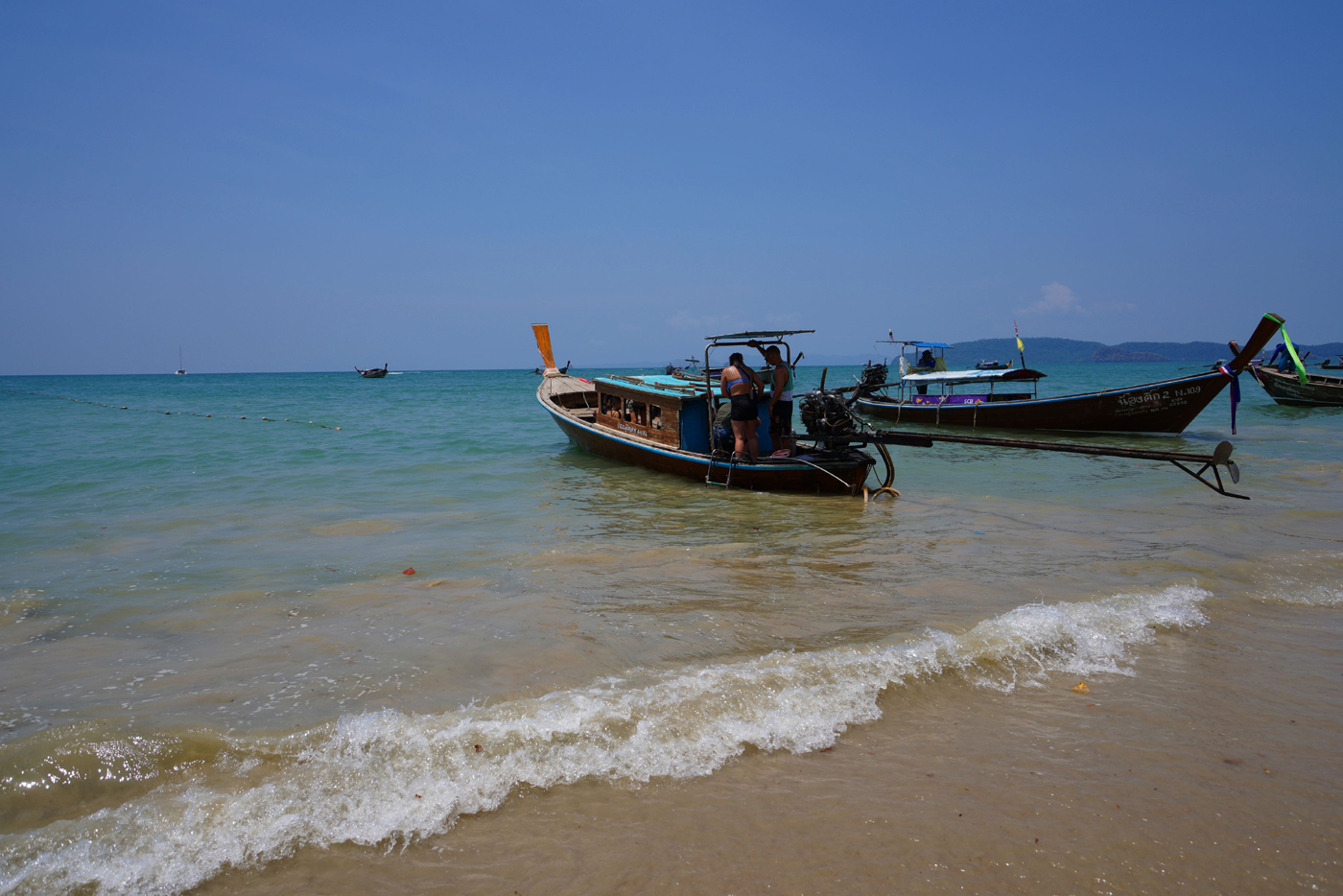 Once you have your ticket make your way to the waiting area which is down towards the beach. You hand in your ticket to the person officiating (usually sitting on a chair surrounded by people) and they will make a note of your ticket, and then you wait until you are called for boarding.
Boarding a Longtail Boat at Ao Nang
Now this is the point where it starts to get interesting! If, like me, you are travelling alone and carrying bags then you need to be prepared, getting onto a longtail boat with bags is much easier if there are two of you!
A few travel tips before you head out to the boat. First and foremost, you are going to get wet, very wet. This is not just a paddle with the ocean lapping at your ankes, you are going to be wading out into the waves and the water is going to be well above knee level for sure, so make sure you have emptied out all your pockets - you don't want to spend your entire day on Railay island drying out your Thai baht and cell phone!
Secondly, make sure all your valuables and electronics are securely wrapped in a waterproof bag. I like to use individual dry bags to keep all my gear in, if you buy a few different colours and sizes then you can pack everything into different bags inside your main bag for easy access. When you need something you can easily identify which bag contains what you need by the size and colour, just pull out the bag you need. This way not only will your valuable camera equipment and wallet or purse stay dry but so will all your travel clothes!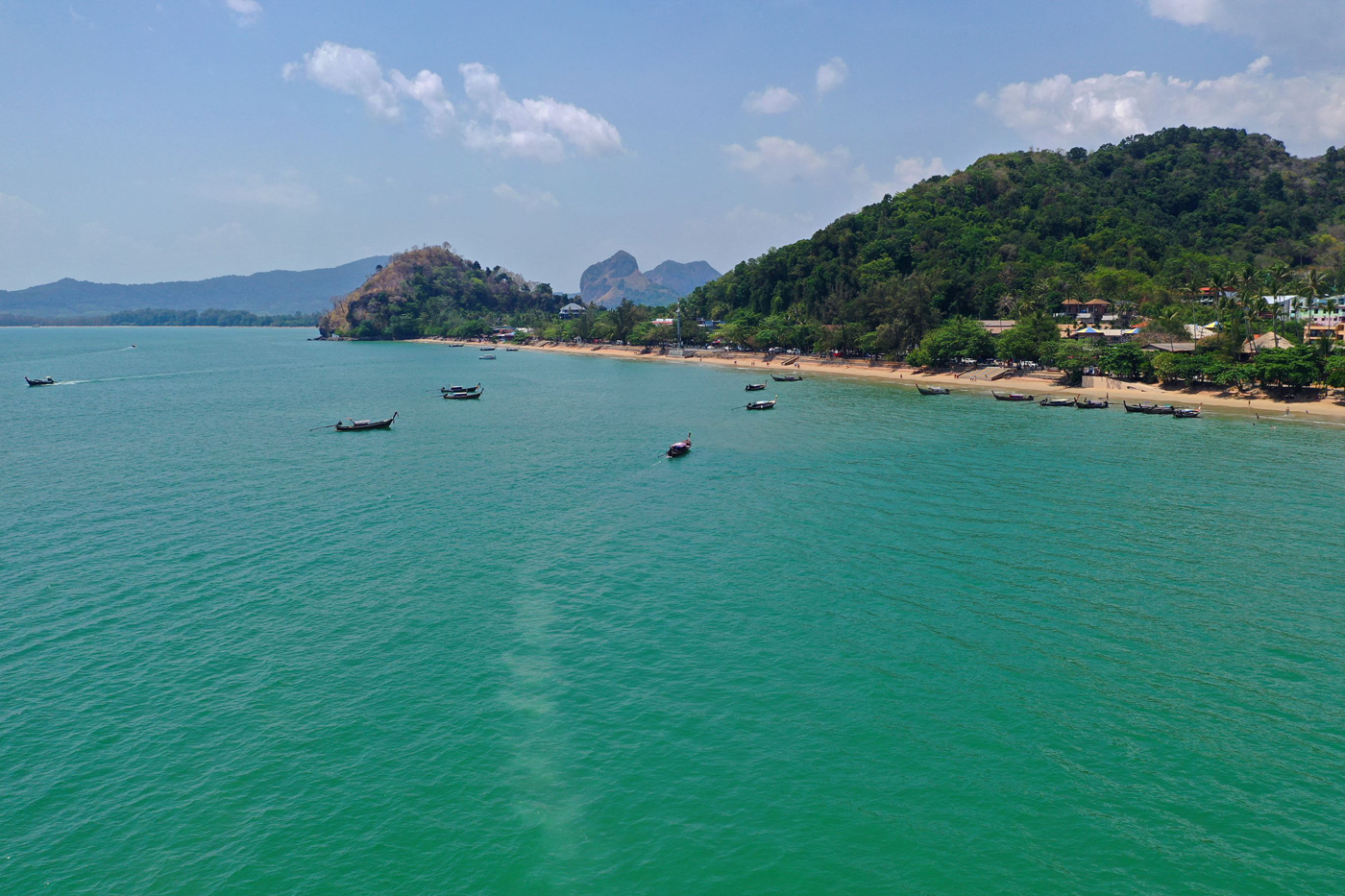 So once you have waded out to the boat, avoided the propellor bobbing around at head height at the end of the long-tail (which gives the longtail boats of Thailand their names), and scrambled aboard your boat, then it is finally time to sit back and enjoy the beautiful scenery as you take your long awaited boat ride to Railay Beach.

How long does it take to get to Railay Beach from Ao Nang?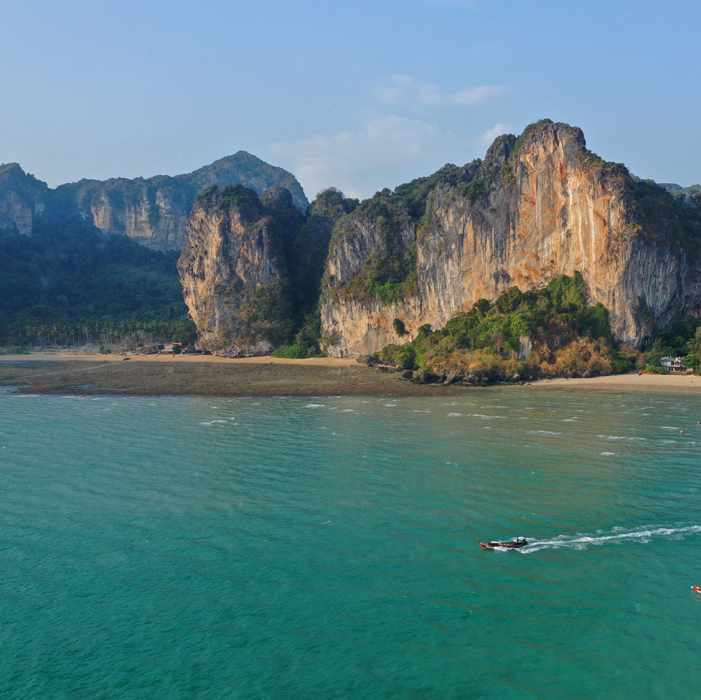 The longtail boats to Railay Beach depart from Ao Nang, a beach resort town near Krabi, and take about fifteen (15) minutes. It may not sound like very long, but be warned it is very very noisy!
The scenery as you leave Ao Nang and make your way across to Railay beach is absolutely stunning, with limestone karsts rising out of the sea creating a beautiful backdrop for the turquoise waters. Remember that if it is even a little choppy then once more you are going to get wet, so be warned! It's all part of the fun of taking a long-tail boat ride.
Even though the scenery was spectacular and a great distraction form the noise of the engine, my eardrums welcomed my arrival at Railay beach with great relief and continued to drone for some time after.
The long-tail boats themselves are super manoeverable, even in shallow water, but they are a little underpowered for longer journies. The distance between Ao Nang beach and Railay beach is just long enough for you to enjoy your long-tail boat experience without becoming too uncomfortable.
So that's it, you have arrived at Railay beach, and it is beautiful! Now it is time for you to explore Railay which is in fact four beaches on the Phra Nang peninsula. The Phra Nang peninsula can only be accessed by boat because of the limestone headlands and valleys between Krabi and the peninsula. There are no raods, no vehicles, only footpaths from the white sandy beaches to the soaring linestone cliffs, caves and hidden lagoons.
So what are you waiting for? Go and explore!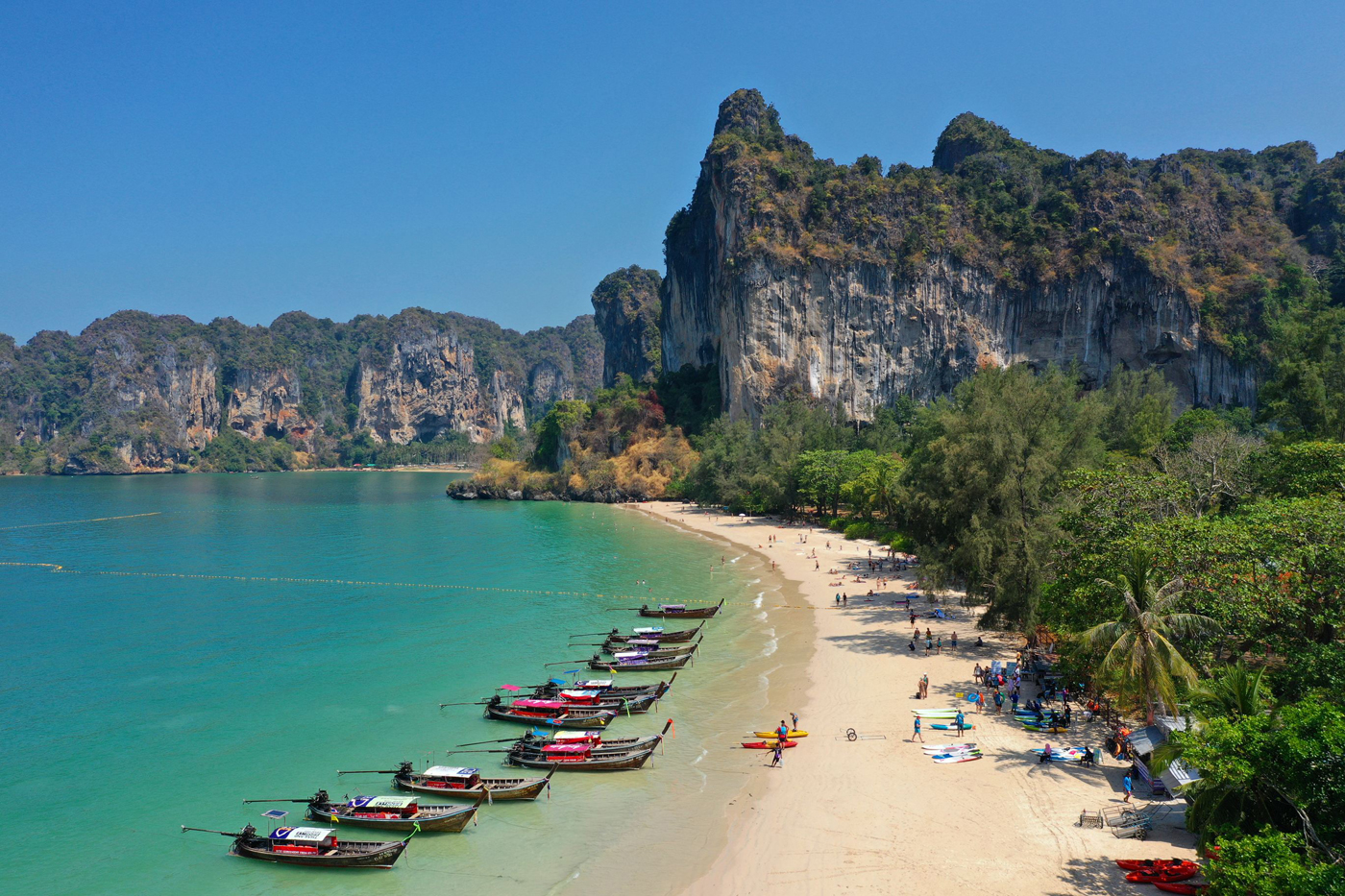 ---
---
Want to know more? Here is a playlist of videos which may be if interest to you if you want to visit Railay Beach in Thailand starting with my long days journey from the Gulf of Thailand to Krabi and the Andaman Sea.