Namibia National Parks NWR Accommodation
Namibia Wildlife Resorts (better known as NWR) manages the accommodation inside the national parks of Namibia, from the Fish River Canyon in the far south to Popa Falls in the far north. From the dunes at Sossusvlei in the Namib Desert to the Skeleton Coast, and of course Etosha National Park for the most amazing wildlife experience.
The video below introduces you to the lodges run by NWR and shows you on a map where each lodge can be found to help you decide where to stay in Namibia on your self drive trip.
---
Namibia Wildlife Resort Locations
The Namibia Wildlife Resorts camps are located all across Namibia, so to see where they are all located and what accommodation each one offers you read on.
Fish River Canyon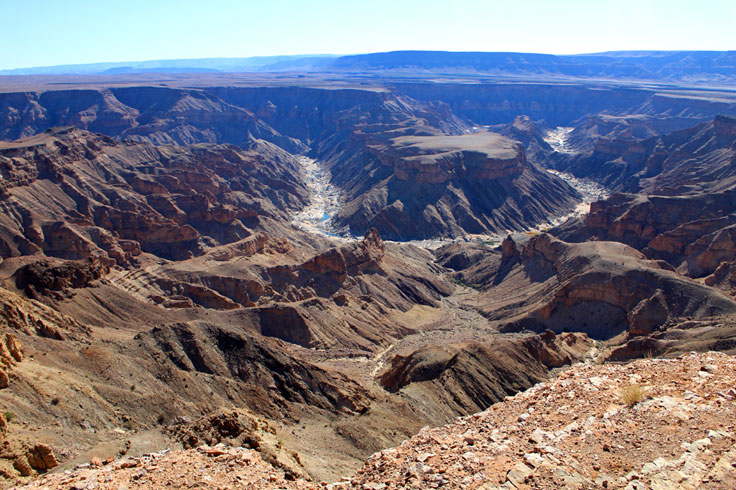 Let's get started in the south of Namibia with. Fish River Canyon. Fish River Canyon is Africa's largest canyon and the second largest canyon in the world.
Ai-Ais Hot Springs Resort & Spa (Fish River Canyon)
In the far south of Namibia, right across the border from South Africa, is Ai Ais hot springs resort and spa.
Ai Ais means place of burning water because the whole resort is built on top of a hot springs at the southern end of the Fish River Canyon, which is Africa's largest canyon and the world's second largest canyon.
Accommodation choices at Ai Ais are family chalets, rooms and camping.
Hobas Camp (Fish River Canyon)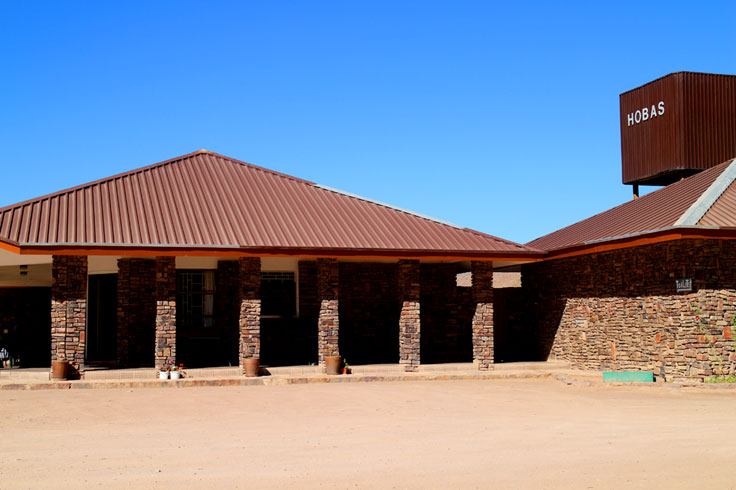 Head north up Fish River Canyon and you will come to Hobas camp.
Hobas camp is where you start the 5 day Fish River hike. If you're going to hike the fish river canyon you will start in the north and finish at Ai Ais.
Hobas camp has bush chalets and camping.
South Namibia Coast
Shark Island (Luderitz, Namibian Coast)
Now to the coast where at Luderitz you will find Shark Island.
Ever fancied spending the night in a lighthouse? Shark Island is on a rocky outcrop that sticks out of the sea and the location of the old Luderitz lighthouse. As well as camping places you can stay in the old Luderitz lighthouse.
It can be quite windy on Shark Island so if you are camping make sure you peg down your tent well!
Namib Desert & the Namib Naukluft National Park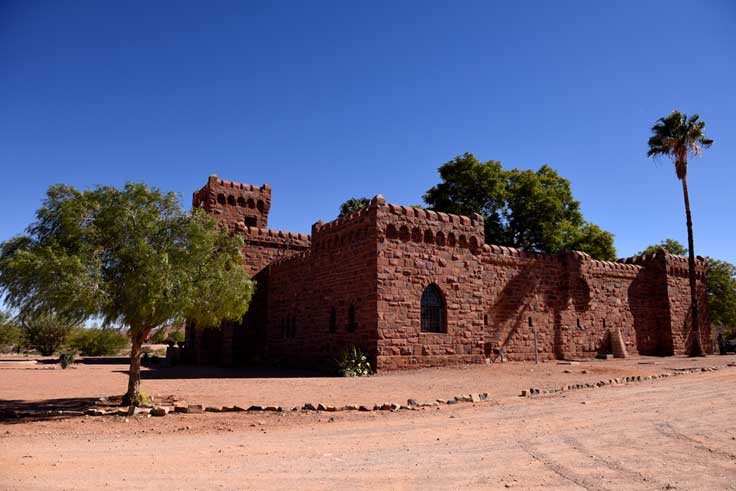 Duwisib Castle (Namib Desert)
Back inland and on the desert edge is a very unique place to stay in Namibia, Duwisib Castle.
Built by a German in old German style and decorated out with things from Germany dating from the late 1800s early 1900s is a castle on the edge of the desert. You can actually stay in the rooms in the castle, or if you prefer there is camping available in the castle grounds.
Sossusvlei & Sesriem Canyon (Namib Desert)
Now to one of Namibia's highlights is the Namib Desert and in particular the dunes at Sossusvlei.
Sesriem Campsite (Sossusvlei, Namib Naukluft Park)
At the entrance to Sossusvlei inside the national park you can camp at Sesriem camping site and experience fantastic night skies. The location inside the park gate gives easy access into Sossusvlei.
Sossus Dune Lodge (Sossusvlei, Namib Naukluft Park)
If camping is not for you then you can stay in the luxury eco Sossus Dune Lodge with breathtaking views stretching out into the desert.
Sossus Dune Lodge is also inside the park gate at Sossusvlei and the lodge can provide sunrise drives into Sossusvlei.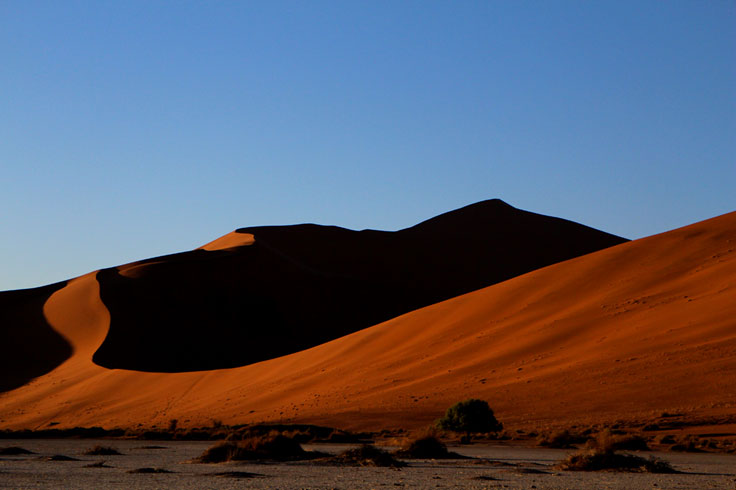 Naukluft Camp (Naukluft Mountain Zebra Park)
Also in the Namib Desert general area is the Naukluft camp tucked in the Naukluft mountains.
The Naukluft mountains are home to the rare mountain zebra.
Naukluft Camp offers homely chalets and camping.
On a side note, when you're in Naukluft that doesn't give you access to Sossusvlei and the desert, it's a separate national park even though it shares the same name of Naukluft Park and is some 100km from Sossusvlei..
NWR Dams, Lakes & Small Game Reserves in Namibia
NWR has two resorts built on dams or lakes. These are not in National Parks but are still operated by Namibia Wildlife Resorts.
Hardap Dam
Near Marientel is Hardap Dam Resort.
Hardap is popular with anglers and is in the south of the country situated on the main B1 road which runs north to south B1 through the centre of Namibia.
Hardap Dam has bush chalets, family chalets, VIP chalets, a dormitory and camping.
Daan Viljoen
On the B1 north close to Windhoek in the centre of Namibia you will find Daan Viljoen Game Reserve.
The accommodation in Daan Viljoen is owned by NWR but is currently managed in partnership with a private company.
Daan Viljoen Game Park is a popular weekend escape from the noise of Windhoek city and offers both chalets and camping.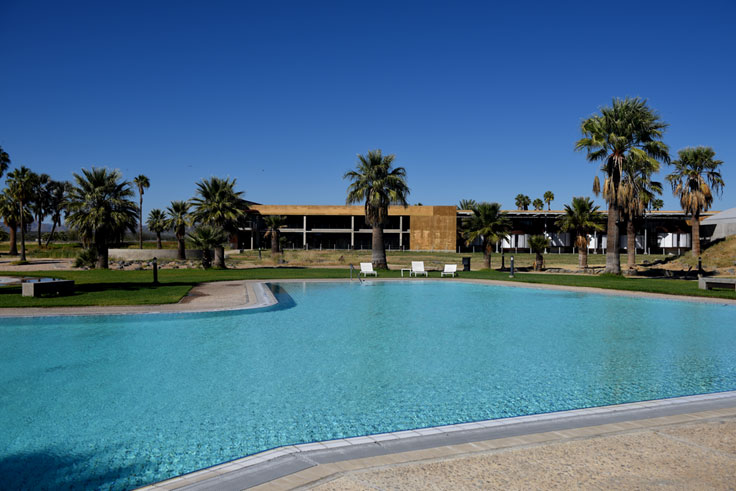 Gross Barmen
Head north from Windhoek up the main B1 road and you will come to Gross Barmen Resort.
Built around a beautiful lake Gross Barman is a very popular conference venue. Gross Barmen offer rooms and camping facilities.
Waterberg Plateau Park Namibia
Waterberg Resort
Waterberg Resort sits in the shadow of the Waterberg Plateau Park.
On top of Waterberg plateau there is a game reserve where you can go for guided 4x4 game drives. Waterberg is also popular with birders and hikers since there are no lions or elephant in the park.
Waterberg Resort offers chalets, rooms, family chalets and camping.
Damaraland Namibia
Damaraland is known for its dramatic landscapes and ancient rock paintings by the San People or Bushmen.
Khorixas Rest Camp (Gateway to Damaraland)
Next we are heading into Damaraland to Khorixas rest camp.
Surrounded by dramatic landscapes and just south of Etosha National Park Khorixas Rest Camp has bush chalets, family chalets and camping.
Skeleton Coast Namibia
Windpomp (Skeleton Coast)
Taking a side trip back to the coast brings us just north of Swakopmund to a place called Windpomp, formerly known as Mile 14.
Previously run as Mile 14 under the NWR banner, Windpomp is now under private management in partnership with NWR.
Windpomp is mainly aimed at anglers and has campsites spread out on the beach.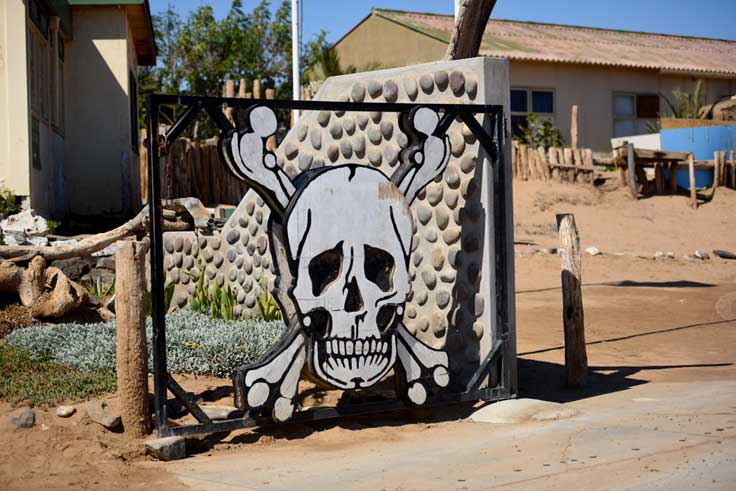 Torra Bay (Skeleton Coast)
A long hot drive up the skeleton coast from Windpomp brings us to Torra Bay which is only open in December and January when anglers from Namibia and South Africa flock to the coast.
Torra Bay provides camping sites only, and is fairly basic. Take everything with you if you intend to camp here.
Terrace Bay (Skeleton Coast)
Driving even further north up the skeleton coast in Namibia you will finally get to Terrace Bay.
Terrace Bay is also an angler's paradise, and possibly one of the most remote places to stay in Namibia.
The accommodation at Terrace Bay is provided in rooms and chalets.
Etosha National Park Namibia
The next six places to stay are all inside the Etosha national park. Etosha offers the most amazing wildlife experience you can imagine and is a wildlife photographer's dream.
Dolomite Camp (Etosha National Park)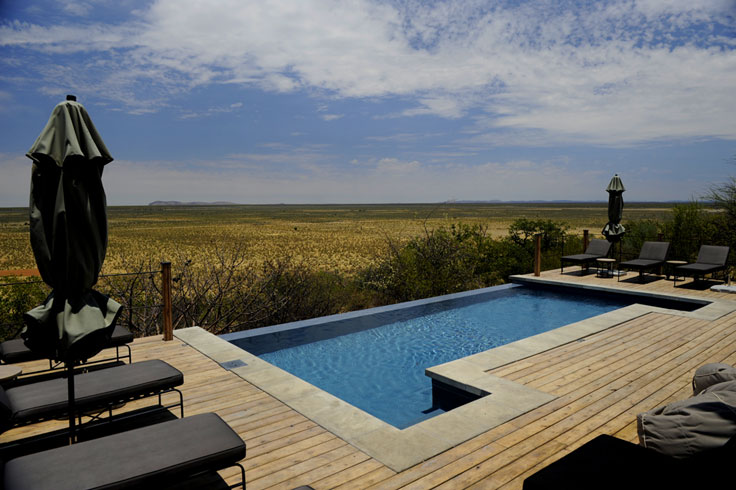 We're going to start over in the west of Etosha Park at Dolomite Camp.
Built among dolomite boulders on a rocky outcrop Dolomite Camp is a luxury permanent tented camp offering a peaceful luxury experience that delivers a great safari experience.
Accommodation at Dolomite Camp is in luxury tented chalets.
Olifantsrus Campsite (Etosha National Park)
Also in the west side of Etosha is Olifantsrus camping ground.
Very unique in that it has its own viewing platform overlooking a water hole Olifantsrus is great for game viewing, but it is exclusively a camping site.
Okaukuejo Camp (Etosha National Park)
Now to the most well-known place to stay in Etosha national park, Okaukuejo Resort.
With its floodlit water hole Okaukuejo offers unrivalled game viewing from inside the camp itself.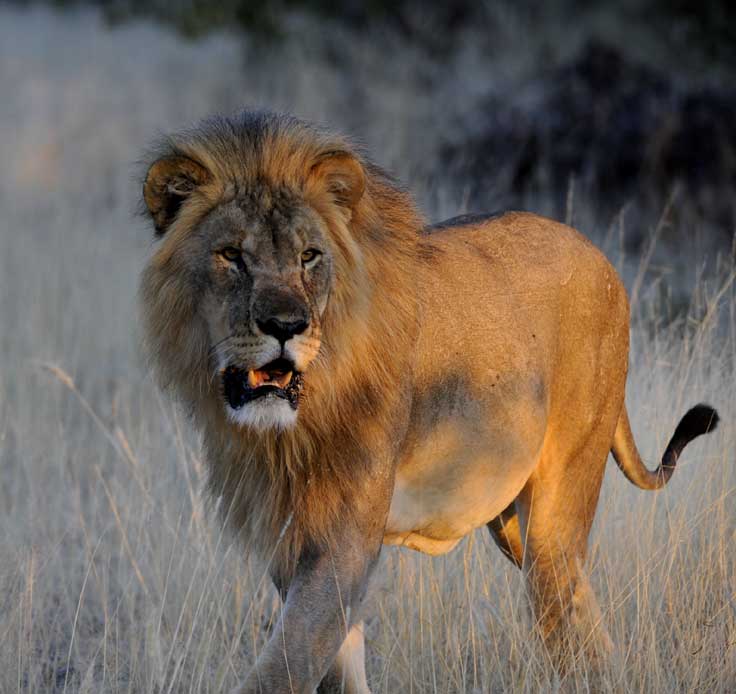 etosha-park-namibia-lion

Okaukuejo is the biggest and busiest camp in Etosha National Park and has the widest selection of accommodation. Ranging from premier waterhole chalets to camping. There are also rooms, bush chalets and waterhole chalets at Okaukuejo.
Halali Camp (Etosha National Park)
Moving east of Okaukuejo we come to Halali rest camp.
Often overlooked Halali is the quietest of the three main camps in the main eastern section of Etosha and is in an excellent game viewing area.
There also is a flood lit waterhole at Halali which is popular for rhino watching. If you want somewhere quiet but with good game viewing Halali is a good choice.
Halali resort offers rooms, chalets, family chalets and camping sites.
Namutoni Resort (Etosha National Park)
On to Namutoni Resort. Namutoni is an old fort built by the Germans giving Namutoni a very unique and special feel.
You can climb the lookout tower in Namutoni fort to watch the sunset and hear the sounds of the wild carried on the wind.
Namutoni has rooms, bush chalets and camping.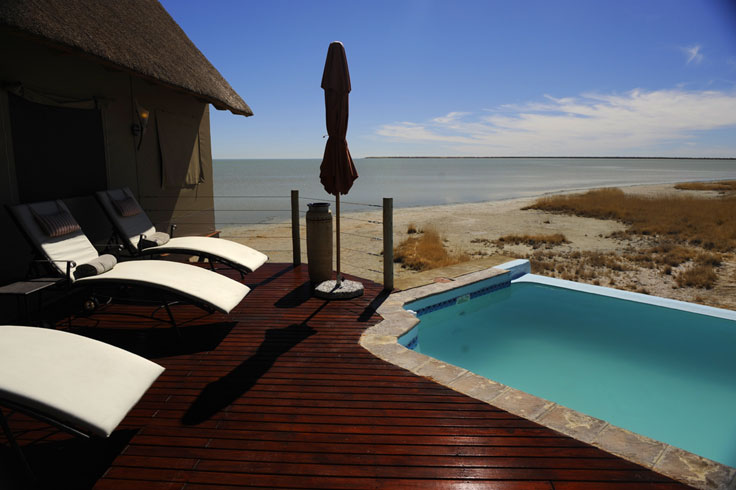 Onkoshi (Etosha National Park)
Our final place to stay in Etosha is Onkoshi.
Onkoshi is a luxury eco lodge built on the edge of Fischer's pan. Designed to have minimal impact on the environment Onkoshi is a semi-removable camp.
Accommodation at Onkoshi is in luxury tented chalets built on stilts overlooking the park. The stilts offer protection when Fischers Pan floods.
Kavango River Namibia
On the edge of the Okavango Delta, the Kavango river runs through the north eastern part of Namibia.
While most of Namibia is dry and arid for most of the year, in this part of the country you can find is big trees and rivers.
Popa Falls
Finally the last and most northerly NWR camp is Popa Falls resort up in the northeast of Namibia in an area of Namibia that is wildly different from the rest of the country.
The Kavango is a very contrasting and beautiful area offering relief from all the heat and dryness of the rest of the country.
Popa Falls has river chalets, chalets, family chalets and camping
Namibia National Parks run by Namibia Wildlife Resorts
And that's it, that's a summary of all the Namibia Wildlife Resorts accommodation facilities across Namibia.
I hope you found this useful, if you've got any questions about any of the places please go to the video above and leave a comment, I'll get back to you as soon as I can.
The video contains prices for 2021 and 2022, but you can also find up-to-date prices and more detailed information on each camp on this website: http://www.nwrnamibia.com/
Thanks for reading to the end, and I hope to see you on safari soon.

---
---
More videos of Namibia